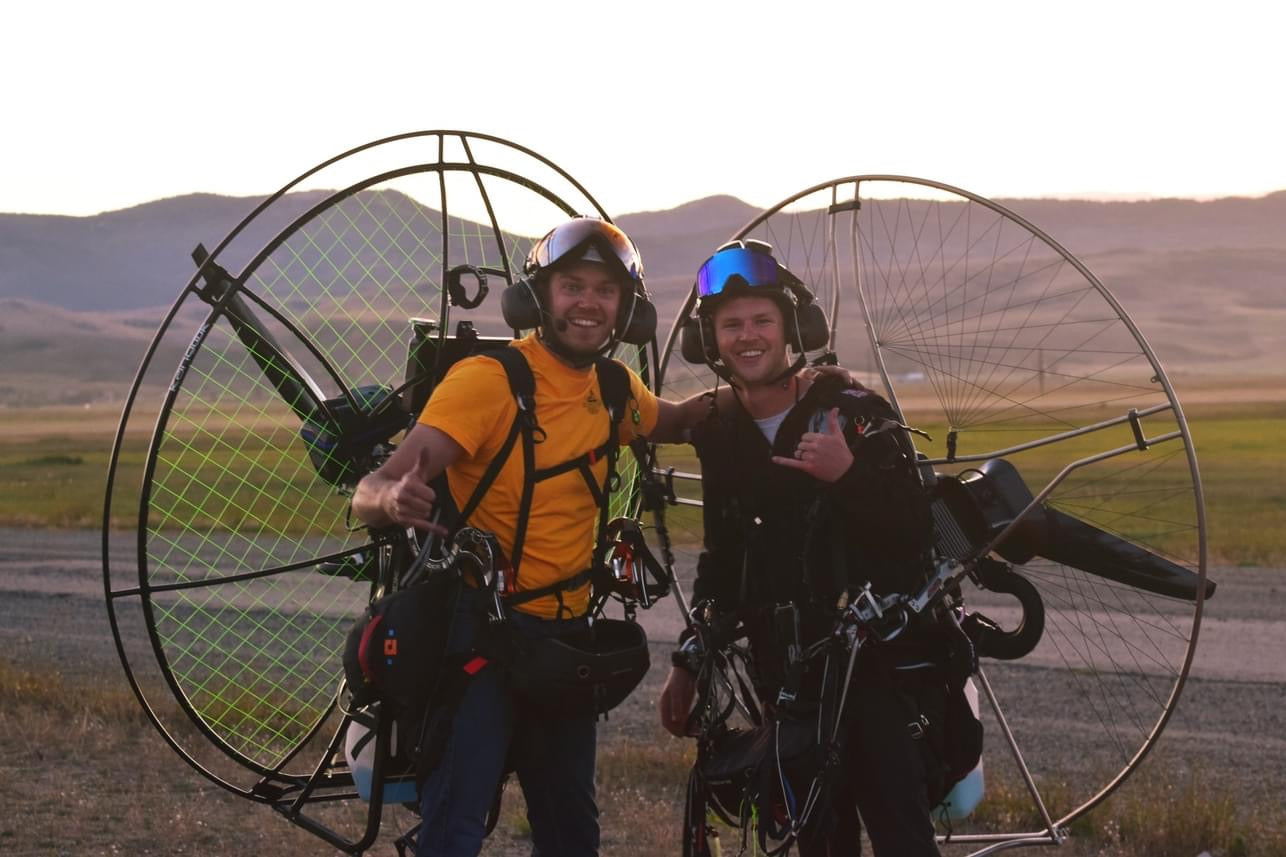 Experienced & Certified Instructors
Our instructors are all USPPA rated for both foot launch and wheel launch instruction. With flights dating back to 2008 and a combined 20 years of experience, SkyVentures Paramotor has the required knowledge to safely teach the ins and outs of this amazing sport.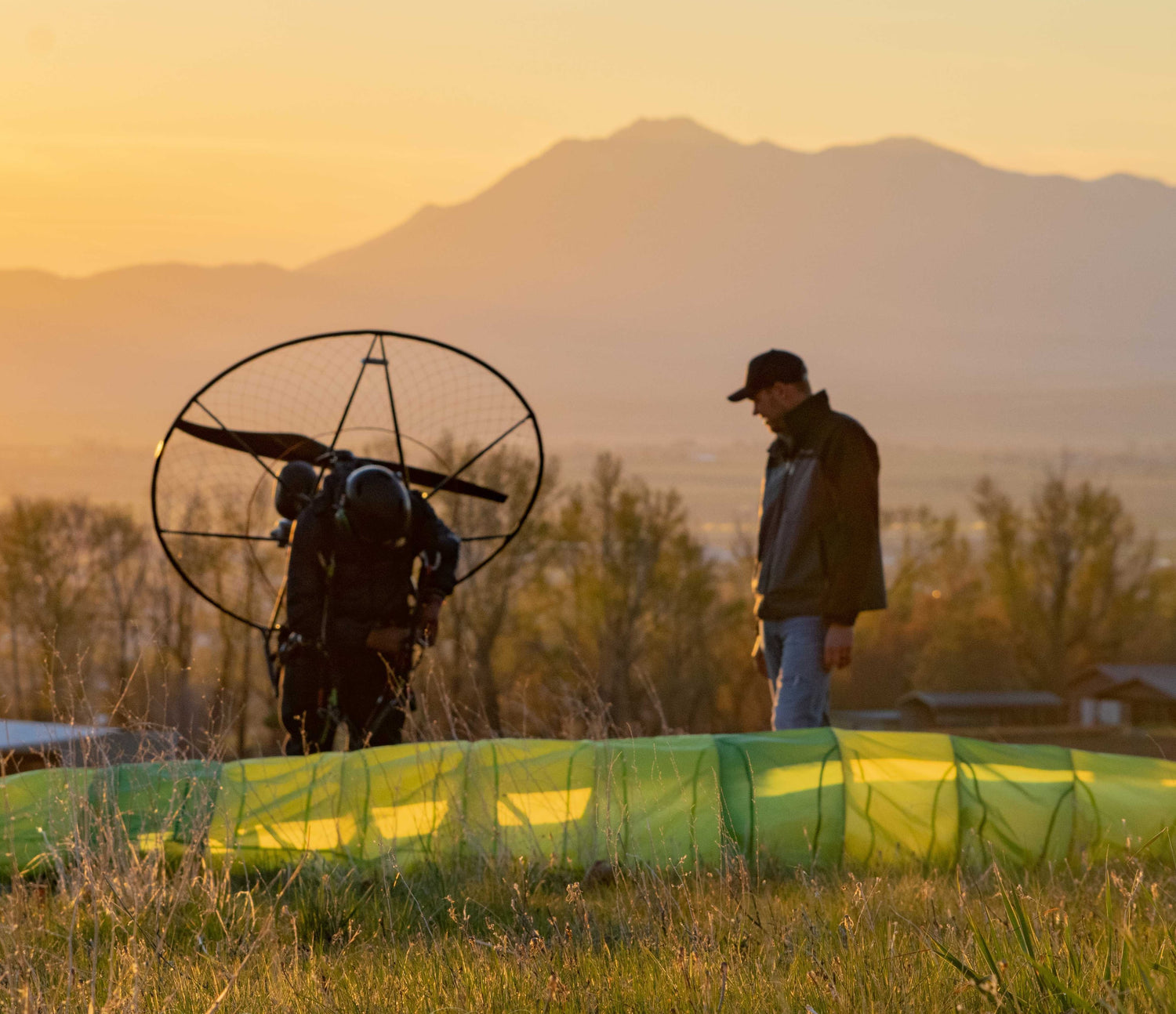 How SkyVentures Paramotor Training Works
We currently offer flexible private training sessions on weeknights and weekends in Logan, Utah. You'll find us at the Cache-Logan Airport or at one of our many landing zones (LZs) in the area.
Once you sign up, we will be in constant contact to plan training sessions that work around your schedule.
Let's do it!
Frequently Asked Questions
What should I expect during training?

Get ready to enter the wonderful world of flight! We'll start by covering all the basics from gear terminology to weather patterns. By establishing a solid foundation early on, you will be able to confidently navigate the entire flight process before taking to the skies. Our training includes a thorough understanding of the Federal Aviation Regulations (FAR) 103 and mastery of the necessary skills for competent piloting such as ground handling (kiting), launch techniques, equipment care and maintenance, understanding weather, aerodynamics, and more!

 We begin training with kiting sessions and practice until you are able to handle the glider independently. Depending on weather conditions, some students may be ready to begin solo flights within just a few days. From there we will continue practicing basic maneuvers to make sure you have a rock solid foundation and are confident in your abilities before going off to fly on your own. 

Our courses follow the USPPA syllabus which means that by the end of your training you will be a USPPA Certified PPG 1 and PPG 2 pilot. We administer written tests and issue ratings during the training process. Having acquired the hours and skills necessary, we also offer assistance in obtaining your PPG 3 rating.
How much does it cost?

Our training course is priced at $3000 and it includes a copy of the PPG Bible. We will work with you over a dozen different sessions to help achieve your PPG 1 and PPG 2 pilot ratings.

While you are welcome to train with our school equipment as you gain confidence, we do recommend getting your own gear so we can help you get set up and comfortable with it before going off on your own. 

If you choose to purchase your new wing and motor through us, we offer a special discount to our students.
Can anyone do it?

Aviation lovers from all walks of life gravitate towards paramotoring. Its "self-regulated" nature provides the most rewarding experiences and freedom that no other form of aviation can!

While some people see a paramotor as a lawnchair or motorcycle in the sky, the truth is, this sport can be physically taxing. However, anyone can paramotor with the right accommodations. With trikes and lightweigh motors there are simple solutions for just about anyone to get airborne.

If you are someone who is simply curious about flying, looking for a new hobby, or just trying to add some more adventure to your life, paramotoring may be just the thing for you!
What should I expect after training?

Once you complete your training, you shouldn't feel like you are alone. We have a great community of pilots both local to Northern Utah and around the world that you can get in touch with. The paramotor community is generally very welcoming and everyone loves a good wingman!

No matter how many hours, months, years, decades of flying you have, you will always be a student of aviation. So never hesitate to reach out with questions, we are more than happy to educate or learn alongside!
Did we talk you into it? Drop your details below and we'll be in contact shortly. 😎